1,350kW Gas Turbine Generator Sets (2 each ) for Sale
Model Cullen CTG-1350/MIA Fully-Enclosed Industrial Grade Generator Sets
with Kawasaki Engines and Stamford Generators –
Available Immediately!
$395,000 USD
Contact Milt Fyre milt@rmaglobal.com 503-351-9898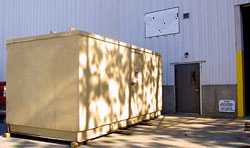 General Information
Built in 1985 – total running hours: Unit 1 - 292 hours and Unit 2 - 766 hours.
Individual Generator Set Rating
1,350 kW, 1,688 kVA 4160V, 3 ph, 4 wire, 60 Hz, 1800 RPM
Individual Gas Turbine Engine Data
Designed and built by Kawasaki Heavy Industries (KHI), Series MIA, Model 03, s/n's: KHI 52631 & KHI 52632
The Gas-Turbine Engines are suitable for operation utilizing either diesel fuel or kerosene, grades 1 and 2, with an LHV around 10300kcal/kg. Maximum allowable viscosity is 12 ST.
Fuel ignition/fuel flow control: Solid state CDI Ignition exciter output: 15,000 volts crest
Individual Generator Data
Mfgr. Stamford model 734D, Rating 1,500 kW, 1,875 kVA at 105ºC temperature rise over 40ºC., 3 ph, 4 wire grounded neutral, s/n's: J55991 & J55992
Control Panel
Mfgr. Cullen, Type Free Standing, Breaker Trip N/A
Engine starter output: 30kW (1,500A 30VDC)
Approx net weight: 32,000 lbs each generator set Dimensions each: 18 ft long x 8 ft wide x 8 ft high
Enclosures
The sets are housed in sound proof indoor type enclosures and are designed for standby duty with continuous ratings and provision for paralleling with each other
and with a local utility company.
Included with each unit:
Component and System Manuals Full set of drawings, Switchgear, and Individual control panel & battery charger.



Contact Milt Fyre milt@rmaglobal.com


Email: sales@rmaglobal.com Phone: (503) 595-5418 Fax: (503) 635-0091 Copyright 1995-2012: RMA Inc.