450MW Hitachi TC4F-26 Steam Turbine Generator 60Hz.
Unused, in Storage, Manufactured 1976, 1,000F, 2,400psig
For Sale
contact milt@rmaglobal.com 503-351-9898
This steam turbine generator was delivered in 1976 for a nuclear power plant that was never installed. It is now for sale, "as is". Here are equipment details. Nominal rating 400MW. Max continuous rating 450MW, Type TC4R-26, 2,400psig, 1,000F, reheat steam 1,000F, exhaust pressure 2.5inch Hg. Abs., 3,600rpm, 7 extractions, number of stages: HP 6, IP 4, LP 7xfour flow, last stage bucket height 26in., governor type: fly ball with rotation pilot valve, 2 main stop valves, 4 control valves, 2 combined reheat valves, casing: 3 number double wall construction, rotor: 3 number solid type, journal bearings: 4 number elliptical, thrust bearing: 1 number tapered - land type, shaft gland system: steam seal with labyrinth packing, turbine governing device, mechanical hydraulic governor, generator: TFLQQ-K totally enclosed, explosion proof, cylindrical rotor type. AC generator, with water cooled stator, and hydrogen direct cooled rotor, outdoor type, rated capacity 553,064 kVA at 60psig hydrogen, .85 power factor, rated output: 470,104kW at 60psig hydrogen, terminal voltage 24,000V, 3 phases, 60Hz. double star connection.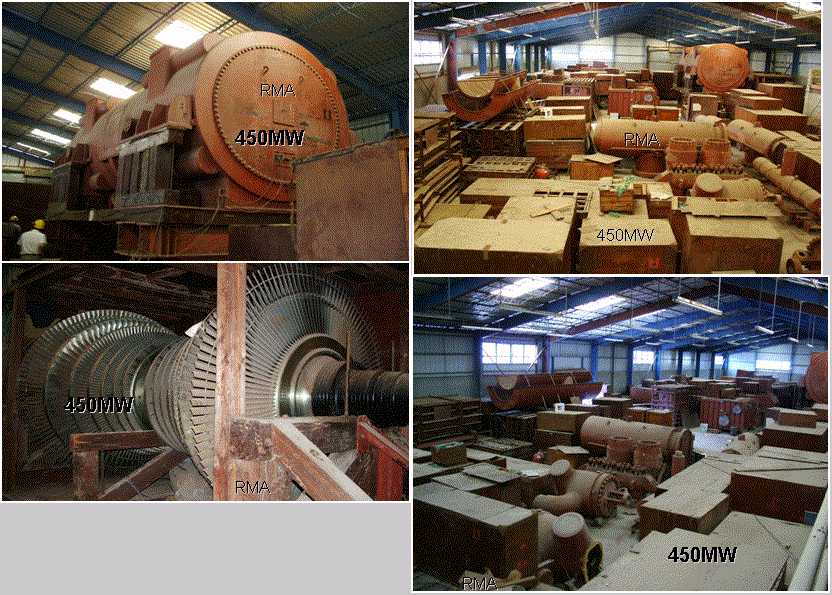 Contact Milt Fyre milt@rmaglobal.com


Email: sales@rmaglobal.com Phone: (503) 351-9898 Fax: (503) 635-0091 Copyright 1995-2011: RMA Inc.