7.7MW Wartsila Engine Generator Set for sale
500rpm, 50Hz. HFO Excellent condition
Contact Milt Fyre 503-351-9898 or milt@rmaglobal.com
This engine generator set is in excellent condition with 50,000 hours. The engine was stopped in late year 2011due to government policy on HFO based power plants. The reports state that the engine operated at full peak load until shut down. The engine never had any breakdowns. Currently it is located in a warehouse. All certificates and service reports are available.

Generator Details: Make: ABB. Type: HSG 1250 M12. Output: 9705 kVA. Voltage: 6000V. 50 Hz.


Ancillaries:


2x Water Pumps ht AZCUE 37 kW.
2x Water Pumps lt AZCUE 37 kW.
2x Oil Pumps AZCUE 75 kW.
1x Prelub Oil Pump AZCUE 25 kW.
1x Oil filter BOLL & KIRCH set.
1x Exchanger plates low temperature oil GEA VT40.
1x ALFA LAVAL LOPX 709 Oil Separator.
2x ALFA LAVAL MFPX 307 HFO Separator.
1x Wärtsilä booster module.
1x Pump and HFO filter set.
3x Connection and synchronisation to the power grid.
1x Set of dismantling tools.
1x Set of spares for the engine.
1x Set of spares for the separators.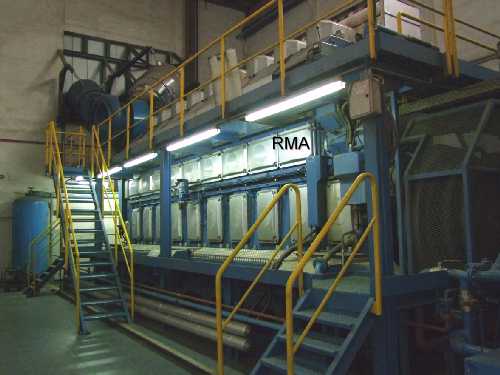 Contact Milt Fyre 503-351-9898 or milt@rmaglobal.com

Email: sales@rmaglobal.com Phone: (503) 595-5418 Fax: (503) 635-0091 Copyright 1995-2012: RMA Inc.